Ship Name: Santa Cruz - Expedition Ship - 90 passengers

We strongly recommend two pre-cruise nights and one post-cruise night in Quito or Guayaquil. Please inquire about adding these or other services to your trip.
Highlights

Perfect for families and couples who want a quality cruise on a larger ship; great guides, comfortable ship, and a well-planned itinerary.



Summary
The Galapagos Islands are considered one of the most spectacular and pristine National Parks in the world. Visitors delight in the abundant, unusual, and surprisingly approachable wildlife--from Galapagos giant tortoises to playful sea lions to the fascinating blue-footed boobies.
Itinerary
Itinerary
Day 1: Baltra Island / North Seymour Island
Arrive Baltra Island this morning by plane and transfer to the dock to board Santa Cruz. Enjoy a welcome, introductory briefing and lunch.
In the afternoon, disembark (dry landing) for a walk along the coast and the interior of North Seymour Island. Observe blue-footed boobies, frigate birds, swallow-tailed gulls, as well as sea lions and marine iguanas. Enjoy an opportunity for snorkeling or coastal exploration. Evening briefing, welcome cocktail and dinner.
Day 2: Isabela Island / Fernandina Island
Enjoy coastal exploration by Panga, while the naturalist guide explains the dramatic geology of the area with remains of lava flows and tuff stone layers. This is the nesting place for flightless cormorants, the only existing marine birds in the world other than penguins that have changed their condition of flying birds to diving birds. Wildlife here also includes sea lions, Galapagos fur seals, Galapagos penguins, blue-footed and Nazca boobies and noddy terns. Depending on the conditions of the ocean, it will be possible to schedule a snorkeling outing along the cliffs of partly-sunken Ecuador Volcano, near the northern tip of Isabela Island. This area has a very rich marine life, and is seasonally visited by green sea turtles and oceanic sun fish (Mola mola). Lunch on board.
Visit the youngest island of the archipelago, Fernandina, in the afternoon. Disembark (dry landing) for a one-mile walk over dark lava. Punta Espinoza has an amazing combination of barrenness and a lot of wildlife. Having no introduced mammals, Fernandina boasts a very unique environment with the highest density of marine iguanas, who share their space with sea lions, sally-light foot crabs, hawks, penguins and the flightless cormorant. Evening briefing and dinner.
Day 3: Isabela Island
After breakfast, make a dry landing on the northwest of Isabela to visit secluded Tagus Cove, a place that provided a favorite anchorage for pirates and whalers over the centuries. Old graffiti is still found on its walls. The vegetation in the area includes the fragrant palo santo trees. An uphill hike takes guests to the back of Darwin Crater, which is filled with salt water. The view at the end of the trail is worth the climb. Darwin is one of Isabela's six volcanoes, a remarkable contrast to the lower islands to the east of the archipelago. Enjoy time to swim or snorkel. There is no beach in the area, so these activities are done from the Pangas. Lunch on board.
After lunch, disembark at Urbina Bay, located at the foot of the volcanoes, Alcedo and Darwin. Here you can find corals, shells, and many other calcareous organisms exposed above water. This area is also home to large and very colorful Galapagos land iguanas, giant tortoises (occasionally). Along the shoreline, after the hike, guests may encounter flightless cormorants and see penguins while snorkeling in this beautiful cove. Evening briefing and dinner.
Day 4: Santa Cruz Island
In the morning, disembark (dry landing) to visit to the Charles Darwin Research Station and the giant tortoise pens. These are the headquarters of scientific investigation, conservation and the National Park administration. Enjoy lunch at the poolside of the Finch Bay Eco Hotel.
After lunch, visit the highlands of Santa Cruz Island, with their impressive Scalesia forest and the geological formation of the twin pit craters known as Los Gemelos. From December to mid-April, a visit to see the giant tortoises in the wild may be included, if weather conditions are good. Enjoy an evening briefing about the next day's expedition plan and dinner.
Day 5: Floreana Island
Visit Post Office Bay this morning. A short walk leads to the historic barrel site, where mail can be left for guests from other vessels to be hand-delivered. Near Post Office Bay, explore the north shore of Floreana along narrow channels teeming with life. Rays, turtles and sea lions can be seen gently swimming next to pangas. After a wet landing and a short walk up to a volcanic cone, reach the Baroness's Tower, from where the entire northern shore of the island can be seen. Learn more about the fascinating past of this island. Lunch on board.
Disembark at Punta Cormorant (wet landing) at an olivine-crystal beach for an easy walk that includes a brackish water lagoon where bird species like greater flamingos, pintail ducks, common stilts, herons, sandpipers, and others may be observed. This outing also includes a white-sand beach where sea turtles come out at night to nest (from December to May). There is a possibility to go snorkeling or ride the glass-bottom boat ride to Devil's Crown. Farewell cocktail, evening briefing and dinner.
Day 6: Baltra Island
Disembark at Baltra Island. Transfer to the airport for the flight back to the mainland.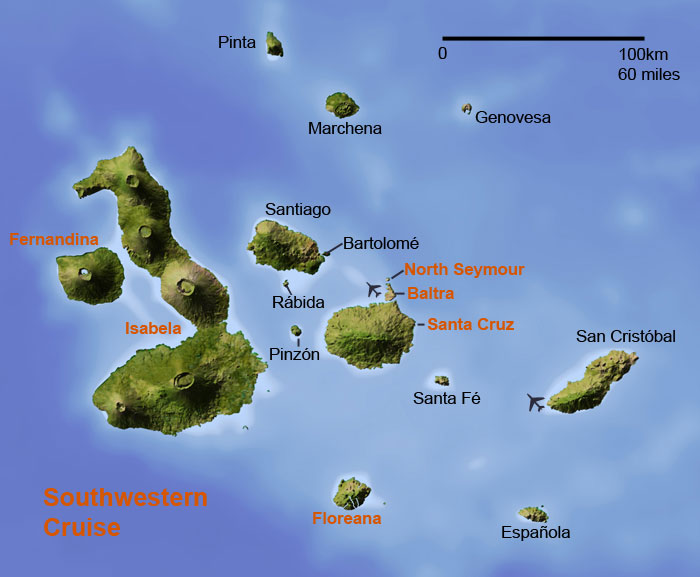 Above rates are per person and based on double occupancy except in Boat Deck Single Standard cabin.
Additional Costs:
International Airfare
Galapagos Airfare (Quito or Guayaquil): Approx. $450-$600 per person
Galapagos National Park Fee: $100 per adult; $50 per child under 12
Galapagos Transit Card: $20 per person
Fuel surcharge may apply
Single Rate: Double cabins may be used for single use at 1.5 times the regular rate.
Triple Rate: Per person rate is the same as the double rate in select Main Deck and Boat Deck Standard cabins.
Child Rate: 25% off for children under 15 years. One child discount per full paying adult fare. Minimum child age is 6. Must share cabin with their parents or guardians. Not offered during peak season.
Peak Season:
During these times, passengers must pay a surcharge of $137 per adult and $105 per child. Child rates are not offered during peak season. No discounts apply. In addition, double cabins for single use are 2 times the regular rate.

We strongly recommend two pre-cruise nights and one post-cruise night in Quito or Guayaquil. Please inquire about adding these or other services to your trip.
Included:
Shared transfer from main hotels in Quito (Casa Gangotena, Hilton Colon, Swissôtel, Marriott, Dann Carlton) and in Guayaquil (Hilton Colon, Oro Verde, Hampton Inn, Sheraton) to airport for flights to/from Galapagos; cabin accommodations aboard ship; all meals aboard ship; all shore activities and excursions; guide and lecture services; sea kayaks; glass-bottom boat outings; snorkeling gear; luggage handling; medical care on board (but not the cost of medication); taxes and transfers on the island. For Darwin Elite cabins only (Boat Deck Standard Plus, Superior, Junior Suite and Master Suite): wine and beer at dinner; use of VIP lounge at departure airport in the Galapagos Islands; explorers' kit, expedition CD; Internet access in select areas; special edition take-home coffee table book; and wetsuit rental. Subject to change without notice,
Not Included:
Hotel nights before/after cruise; transfers in Quito or Guayaquil; Galapagos National Park entrance fee, subject to change without notice; Galapagos Transit Card; international airfare; airfare to/from Galapagos Islands; wet suit rental; Internet; alcoholic and non-alcoholic beverages; gifts and personal items; passport expenses; traveler's insurance; laundry service; gratuities to ship staff and crew are left to the discretion of the passenger; fuel surcharge may apply.
Airfare between Quito/Guayaquil and the Galapagos Islands:
The flights between mainland Ecuador (Quito or Guayaquil) and the Galapagos Islands are an additional cost. To secure your seats on often overbooked flights, ExpeditionTrips must reserve these flights for you at the time of cruise booking. Approximate cost (including service fee): $450-$600 per adult; $250-$325 per child under 12 (copy of passport required).