Cool Galapagos
The Galapagos is one of the treasures of the natural world. Over 1000 species found here are found nowhere else.
A guide to the Galapagos Islands, whether you're interested in the natural history, the geology and wildlife or the unspoiled unique wilderness that is the Galapagos Archipelago.


If you want to travel to the Galapagos on a cruise or other vacation, there's information on trips that are running this year and next.


If you want to see pictures of the Galapagos Islands, birds, iguanas, tortoises, seals and landscapes, you're sure to find enough to whet your appetite.


If armchair travel is your thing and researching the ideas and background of Darwin's voyage on HMS Beagle or the evolutionary ideas he developed through his studies of Natural History, then you'll find some useful commentaries and resources.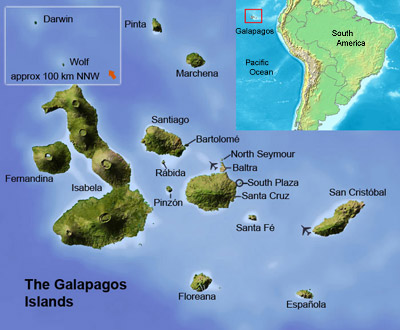 The Galapagos Islands lie almost exactly on the equator. They have been uninhabited for most of recorded history and were very quiet - almost unknown - until they became a useful stopping off and provisioning point for whaling ships and pirates.
Despite this activity, little notice was paid and their greatest claim to fame might have been that the author Herman Melville (who later wrote Moby Dick) visited while on a whale ship, had HMS Beagle not landed in 1835 carrying the young British naturalist Charles Darwin.
The islands and their natural history were to be of the utmost importance in helping Darwin to formulate his theory of Evolution by Natural Selection.