Ship Name: Celebrity Xpedition - Expedition Ship - 96 passengers
Activities: Birding, Snorkeling, Wildlife Viewing, Zodiac Tours. See a video here
Highlights

Expect five-star service, wonderful food and a very nice cabin. This is truly a quality cruise (you will be very comfortable!) with a "lighter" natural history program. All-inclusive package program.

Summary

Experience a truly intimate encounter with the Galapagos. Operated by the only major cruise line sailing these waters, she offers touches of the familiar, such as complimentary plush bathrobes, hot tub, sauna, and fitness room. This cruise is all-inclusive - from hotel accommodations to transfers, to round-trip Galapagos airfare, to Park fees and drinks. Excursions range between high, medium and low intensity so you can explore the islands at your own pace. Additionally, strict environmental guidelines and regulations are followed, and the naturalist guides are certified by the Galapagos National Park and they also follow their own conservation program onboard.

Itinerary

Trips start and end at the same place, but on alternate weeks cruise a southeasterly or southwesterly route.

The first and last three days are the same for each cruise

Day 1 - SE & SW: Quito, Ecuador
On the first day of your journey, you'll be greeted at the airport and transferred to your hotel. Enjoy free time to relax and settle in.

Day 2 - SE & SW: Quito, Ecuador
During a guided tour of the capital of Ecuador, situated at an altitude of 9,350 feet, you'll stand on the equatorial line at the Half of the World Park and Museum, and marvel at the monasteries of San Francisco and Santo Domingo. Your tour director will escort you throughout your Quito stay and serve as your personal concierge. Lunch with a spectacular view of the city, and enjoy a welcome dinner at a local gourmet restaurant.

Day 3 - SE & SW: Baltra Island / Daphne Island
During World War II, Baltra served as a U.S. military base protecting the Panama Canal from enemy attack. Now the cactus-strewn landscapes of Baltra are home to the region's main airport and where you will meet the ship. After just a short bus and Zodiac ride you will be aboard. Your luggage will be delivered straight to your stateroom, giving you the opportunity to explore the Xpedition, a 296-foot mega-yacht and your home for the week.

Daphne is a satellite volcanic cone located north of Santa Cruz Island. The crater floor is an important breeding site for the blue-footed boobies. This island is famous for the scientific investigation led by Peter and Rosemary Grant on the finches' population, one of the most important studies on the field that support Charles Darwin's theory. The cliff shore of the island is home for sea lions, pelicans, blue-footed boobies, and tropic birds. In addition, large schools of fish can be observed from the Zodiac rides.
Southeast Cruise - 11 days

1: Quito, Ecuador
2: Quito, Ecuador
3: Baltra Island / Daphne Island
4: Santiago Island / Rabida Island
5: Isabela Island / Fernandina Island
6: Santiago Island / Bartolome Island

7: Santa Cruz Island / North Seymour Island
8: San Cristobal Island
9: Santa Cruz Island
10: Baltra Island
11: Quito, Ecuador
---

Southeasterly Cruise
Day 4 - SE: Santiago Island / Rabida Island
With its sandy beach, black rocks, and blue-water grottos, this stop at Egas Port on Santiago Island, offers a taste of geology, great snorkeling, and an opportunity to see shorebirds and Galapagos fur seals. Excursion options include a long walk along the shore to the grottos to see fur seals, followed by optional swimming and snorkeling or a shorter coastal walk, and optional swimming and snorkeling.

A smaller island south of Santiago, Rabida is best known for its red sand and eroded volcanic landscape. A nesting colony of pelicans makes its home here, along with sea lions and some seabirds. Excursion options include a Zodiac ride and short walk, swimming and snorkeling from the beach, and a deep water snorkel for more experienced snorkelers.
Day 5 - SE: Isabela Island / Fernandina Island
Historically an anchorage for pirates and whalers, Tagus Cove offers a breathtaking view of Isabela, its volcanoes, and a saltwater lagoon. Along the shore, seabirds, penguins, sea lions, sea turtles, and nesting flightless cormorants can often be found. Excursion options include a scenic Zodiac ride for wildlife viewing, a long, faster-paced walk, and optional snorkeling.

Mangle Point is a small inlet on Fernandina's coast where sea lions, penguins, and flightless cormorants reside. The excursion here is a Zodiac ride to view wildlife and enjoy the beauty of the coastline. If conditions allow, enter the inlet for closer viewing.
Day 6 - SE: Santiago Island / Bartolome Island
During a volcanic eruption in the early 1900's, Sullivan Bay was covered with flowing lava. Today, the hardened fields of black rock create a geological wonderland. Take advantage of the cool of the early morning for a walk at this amazing site.

Bartolome Island hosts one of the region's most photographed views and a spectacular geological setting. Its barren moon-like volcanic landscapes, spatter cones, and pinnacle rock make for a unique stop. It is also home to the endemic Galapagos penguin and provides an excellent opportunity for snorkeling. Excursion options include a hike up some 360 stairs "to the top" of the volcano, a Zodiac ride, and an optional beach swim or snorkel.
Day 7 - SE: Santa Cruz Island / North Seymour Island
Las Bachas is one of the most beautiful white sand beaches in all of the Galapagos, and behind it are two small ponds that often have flamingos feeding in the shallows. It is also one of the largest nesting areas for the Pacific green sea turtle. Excursion options include a short beach walk to look for flamingos, followed by an optional opportunity to swim, snorkel, or just relax on the shore. It is also possible to simply go to the beach to swim, snorkel, and relax.

North Seymour is a small island just north of Baltra. It is home to the largest colony of frigate birds in the Galapagos. While keeping an eye out for male frigates trying to impress potential mates with an inflated red neck pouch, you may also see blue-footed boobies dancing in a timeless courtship ritual. Sea lions and large land iguanas also roam about this rocky terrain. Excursion options include a guided long, rocky walk, Zodiac ride and short, easy walk, or simply just a scenic Zodiac tour along the coast to view wildlife and the geology of the area. Experienced snorkelers will also have an option to do a deep water snorkel.
Day 8 - SE: San Cristobal Island
This morning you have the opportunity to visit the small waterfront town of Puerto Baquerizo, the administrative capital of the islands. Excursion options include a tour of the local interpretation center and time for shopping or a fast-paced long walk to scenic vistas, followed by a visit to the interpretation center.

In the afternoon, visit Warlock Hill (Cerro Brujo) and Kicker Rock. White sand juxtaposed with black volcanic rocks makes the beach here one of the Galapagos' most spectacular. Along the shore, there are seabirds and sea lions. Excursion options include a Zodiac ride and beach walk with optional swimming. Afterwards, just in time for a sunset cocktail, the ship will navigate the steep, richly colored walls of Kicker Rock, the spectacular remains of a satellite volcanic cone.
Day 9 - SE & SW: Santa Cruz Island
Puerto Ayora is the main population center of the islands, home to the National Park Tortoise Breeding Center and the Charles Darwin Research Station. Visit the Tortoise Breeding Center, and hopefully say hello to one of the island's most famous residents, Lonesome George, as well as walk through the Charles Darwin Station. You will also have the opportunity to take a bus ride to the highlands to observe giant tortoises in the wild and walk through a lava tunnel. There will also be free time available for shopping.
Day 10 - SE & SW: Baltra Island
Return to Baltra Island and say farewell to the enchanted islands. A representative will greet you at the airport for your flight to your post-cruise Quito experience. Your luggage will be transferred from the ship directly to the plane. Your flight departs the Galapagos giving you one last glimpse of the world's most treasured archipelago.
Day 11 - SE & SW: Quito, Ecuador
Upon your arrival to Quito, a representative will escort you to your hotel. Enjoy an optional afternoon excursion to the local craft market, time permitting. Dinner is served at your hotel. The following morning, after a continental breakfast, your representative will once again escort you to the airport for your return flight home.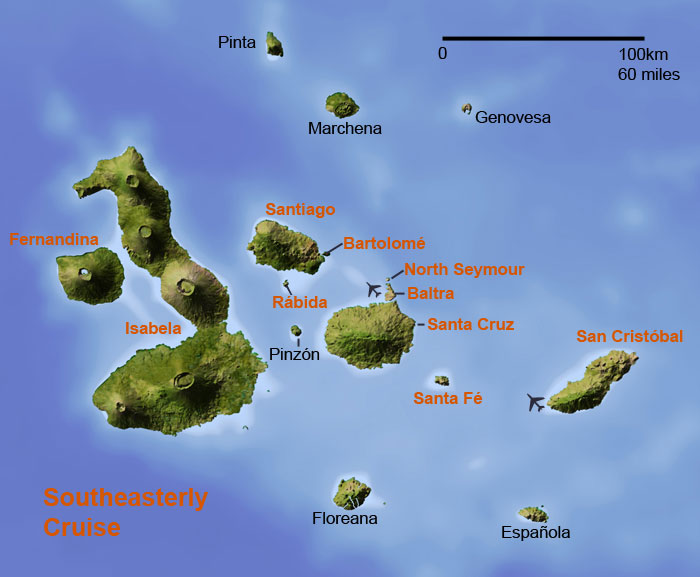 *The above rates are per person based on double occupancy and serve as a guideline only. Fares increase by cabin category and as the sailing date approaches. Please contact ExpeditionTrips for exact rates.

Single Rate: 2 times the regular cabin category double occupancy rate.
Triple Rate: Triple occupancy cabins are available upon request and rates will vary depending on the sail date.
Additional Costs:
International Airfare
Fuel surcharge may apply
Price includes Galapagos airfare, 3 nights hotel and transfers.
Included:
Voyage aboard Xpedition; meals and select beverages onboard; room service; onboard programs and lectures; complimentary snorkeling equipment, mini wetsuits, binoculars, and walking sticks; gratuities while onboard for crew, lecturers, and guides; Galapagos National Park fee; Galapagos tourist card fee; pre-cruise transfer from Quito Airport to hotel and back; two nights in shared double occupancy hotel room in Quito before flight to Baltra; meals during land portion of itinerary; a guided full-day tour of Quito; round-trip air transportation from Quito to Baltra; transfers from Baltra Airport to Xpedition; gratuities for hotel staff and Quito tour guides; post-cruise transfers from Xpedition to Baltra Airport; one post-cruise night at hotel with dinner and breakfast; transfer from hotel to Quito Airport. Subject to change without notice.
Not Included:
Air transportation between home city and Quito; any food or beverages obtained off of Celebrity Xpedition (except as noted); purchases of souvenirs, gifts and other personal items on board; personal services such as spa, laundry, Internet, and telecommunication charges; baggage, travel/cancellation and personal insurance; optional pre/post packages; certain premium beverages; fuel surcharge may apply.