Ship Name: Santa Cruz - Expedition Ship - 90 passengers

We strongly recommend two pre-cruise nights and one post-cruise night in Quito or Guayaquil. Please inquire about adding these or other services to your trip.
Highlights

Perfect for families and couples who want a quality cruise on a larger ship; great guides, comfortable ship, and a well-planned itinerary.





Summary
The Galapagos Islands are considered one of the most spectacular and pristine National Parks in the world. Visitors delight in the abundant, unusual, and surprisingly approachable wildlife--from Galapagos giant tortoises to playful sea lions to the fascinating blue-footed boobies.
Itinerary
Itinerary
Day 1: San Cristobal Island / Embark
Arrival by plane to San Cristobal Island and transfer to the Santa Cruz, anchored at Puerto Baquerizo Moreno, the provincial capital of the Galapagos Islands. Enjoy lunch on board and a welcome talk. In the afternoon, disembark (wet landing) on the eastern tip of the island. Pitt Point is an eroded tuff cone; the trail that ascends from the beach provides spectacular views of the shoreline. This is the only site in the Galapagos where the three species of boobies can be found together, as well as the two frigate species, plus a colony of bachelor sea lions along the beach. After the walk, if conditions are favorable, there is a chance to swim from the beach or snorkel at the nearby islets. Nightly briefing and dinner.
Day 2: Santa Fe Island / South Plaza Island
After breakfast, make a wet landing on a sandy white beach with many sea lion harems. Bulls vie for the right of "Beach Master" while smaller males masking as females make stealthy mating moves. Galapagos hawks are often easily observed, perched atop salt bushes. The giant prickly pear cactus found here live up to their name with tree-sized trunks! The endemic land iguana, unique to this island, may be spotted during the afternoon walk. Enjoy snorkeling and swimming from the beach before returning to Santa Cruz for lunch on board. Disembark (dry landing) in the channel between North and South Plaza Islands. The turquoise waters of the channel contrast brilliantly with the white sand and black lava of the shoreline. The rocks have grown thick with green seaweed in places, speckled with bright orange 'Sally Lightfoot' crabs. Further up the shore, a carpet of scarlet sesuvium succulents serves as groundcover for a grove of luminescent green prickly-pear cactus. Yellow-grey land iguanas sit beneath these, waiting patiently for pears to drop. Along the coastline one finds sea lion colonies, while frigates, swallow-tailed gulls and shearwaters glide playing with the thermals that form along the cliffs of this small but amazing island. Nightly briefing and dinner.
Day 3: Santa Cruz Island
Disembark this morning for a visit to the Charles Darwin Research Station and the giant tortoise pens, where there is an impressive giant prickly-pear cactus forest home to many land birds. These are the headquarters of scientific investigation, conservation and the National Park administration. Following the visit, enjoy lunch in the cooler highlands of Santa Cruz Island, a completely different ecosystem. There are several options available for the afternoon, which can be discussed in advance with your Expedition Leader:
1. Trek along trails amid miconia forest in the highlands, home to many elusive birds including the dark-rumped petrel.
2. Mountain bike (mostly downhill) to Garrapatero Beach.
3. Sea kayak and relax on a beautiful, sandy beach.
4. Experience sustainable agriculture in an organic coffee plantation.
5. Discover SCUBA diving day in Puerto Ayora. This is a day designed for people who wish to discover the marine wonders of the archipelago, but who are not ready to dive in the current-strong Galapagos open waters. A local diving outfitter is contacted on your behalf. This activity takes for most of the day and has a cost. Please ask for more information.
At the end of the afternoon's activities, return to Puerto Ayora and embark the Santa Cruz.
Day 4: Espanola Island
Go on a morning outing at Punta Suarez (dry landing) for an exciting walk on lava/boulder terrain. Visit unique sea bird colonies, including waved albatrosses (April - December), Nazca boobies, blue-footed boobies, swallow-tail gulls, as well as a view of the Galapagos famous "blow-hole." Among its land birds, the Hood island mockingbird, and three species of Darwin's finches are common highlights. Also, look for red-green-black marine iguanas. Back on board for lunch.
In the afternoon, disembark (wet landing) at a white coral beach for a short walk to observe the sea lions, mockingbirds, finches or enjoy the beach. There is great snorkeling in this area, or one may ride aboard the glass-bottom boat. Nightly briefing and dinner.
Day 5: Baltra Island
Disembark at Baltra Island. Transfer to the airport to take the flight back to the mainland.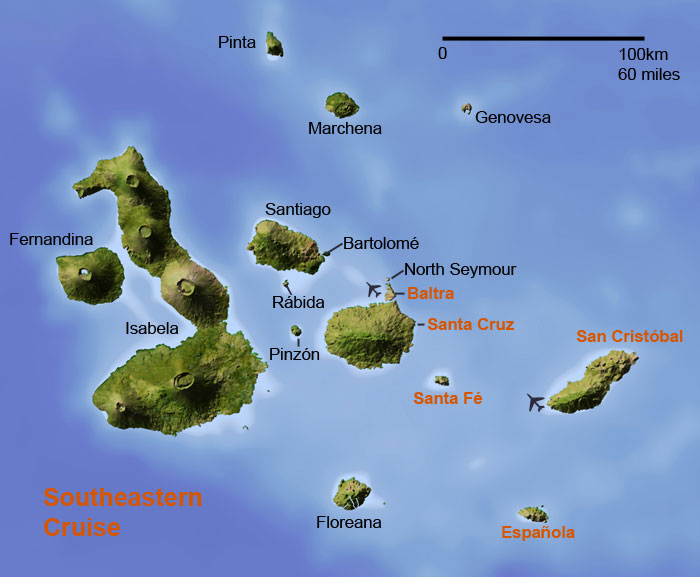 Above rates are per person and based on double occupancy except in Boat Deck Single Standard cabin.
Additional Costs:
International Airfare
Galapagos Airfare (Quito or Guayaquil): Approx. $450-$600 per person
Galapagos National Park Fee: $100 per adult; $50 per child under 12
Galapagos Transit Card: $20 per person
Fuel surcharge may apply
Single Rate: Double cabins may be used for single use at 1.5 times the regular rate.
Triple Rate: Per person rate is the same as the double rate in select Main Deck and Boat Deck Standard cabins.
Child Rate: 25% off for children under 15 years. One child discount per full paying adult fare. Minimum child age is 6. Must share cabin with their parents or guardians. Not offered during peak season.
Peak Season:
During these times, passengers must pay a surcharge of $137 per adult and $105 per child. Child rates are not offered during peak season. No discounts apply. In addition, double cabins for single use are 2 times the regular rate.

We strongly recommend two pre-cruise nights and one post-cruise night in Quito or Guayaquil. Please inquire about adding these or other services to your trip.
Included:
Shared transfer from main hotels in Quito (Casa Gangotena, Hilton Colon, Swissôtel, Marriott, Dann Carlton) and in Guayaquil (Hilton Colon, Oro Verde, Hampton Inn, Sheraton) to airport for flights to/from Galapagos; cabin accommodations aboard ship; all meals aboard ship; all shore activities and excursions; guide and lecture services; sea kayaks; glass-bottom boat outings; snorkeling gear; luggage handling; medical care on board (but not the cost of medication); taxes and transfers on the island. For Darwin Elite cabins only (Boat Deck Standard Plus, Superior, Junior Suite and Master Suite): wine and beer at dinner; use of VIP lounge at departure airport in the Galapagos Islands; explorers' kit, expedition CD; Internet access in select areas; special edition take-home coffee table book; and wetsuit rental. Subject to change without notice.
Not Included:
Hotel nights before/after cruise; transfers in Quito or Guayaquil; Galapagos National Park entrance fee, subject to change without notice; Galapagos Transit Card; international airfare; airfare to/from Galapagos Islands; wet suit rental; Internet; alcoholic and non-alcoholic beverages; gifts and personal items; passport expenses; traveler's insurance; laundry service; gratuities to ship staff and crew are left to the discretion of the passenger; fuel surcharge may apply.
Airfare between Quito/Guayaquil and the Galapagos Islands:
The flights between mainland Ecuador (Quito or Guayaquil) and the Galapagos Islands are an additional cost. To secure your seats on often overbooked flights, ExpeditionTrips must reserve these flights for you at the time of cruise booking. Approximate cost (including service fee): $450-$600 per adult; $250-$325 per child under 12 (copy of passport required).