Ship Name: Santa Cruz - Expedition Ship - 90 passengers

We strongly recommend two pre-cruise nights and one post-cruise night in Quito or Guayaquil. Please inquire about adding these or other services to your trip.
Highlights

Perfect for families and couples who want a quality cruise on a larger ship; great guides, comfortable ship, and a well-planned itinerary.



Summary
The Galapagos Islands are considered one of the most spectacular and pristine National Parks in the world. Visitors delight in the abundant, unusual, and surprisingly approachable wildlife--from Galapagos giant tortoises to playful sea lions to the fascinating blue-footed boobies.
Itinerary
Itinerary
Day 1: Baltra Island / Santa Cruz Island
Arrive Baltra Island by plane and transfer to the dock to board the Santa Cruz. Enjoy a welcome, briefing and lunch before exploring more of Santa Cruz.

After WWII, US military barges were beached and abandoned at Las Bachas. Locals referred to the beach as the barges beach, a name that morphed to "bachas." Today it is an important nesting area for the east Pacific green sea turtle. Located on the north shore of Santa Cruz Island, it is a glorious white beach with several brackish lagoons only a few steps away from the sea. These lagoons are the feeding grounds of various wading birds, from stilts to flamingos. Nightly briefing and dinner.
Day 2: Santiago Island
After breakfast, enjoy a coastal exploration along the impressive cliffs of Buccaneer's Cove. Learn about the history of Santiago Island, its relevance for the whalers, pirates and early researchers, including Darwin's epic voyage in 1835, and the conservation projects aimed at eradicating feral species (a fence stretched along the rocky outcrop is visible to save native plants from the once existing enormous goat population). Today the island is free of feral goats, and the cove is home to a large number of marine birds, sea lions, and inter-tidal organisms. Enjoy fantastic natural formations such as the "Elephant Rock," "The Bishop" and an impressive natural cave. This is a great site for snorkeling too! Lunch on board.

Wet landing for a mid-length walk. Most of the landscape is tuff-stone layers and lava flows. This is a great opportunity to see land and marine birds. At low tide, marine iguanas graze upon the algae beds and there is a colony of fur-sea lions. Opportunity for snorkeling and swimming from the beach after the walk. Expedition plan for the day ahead and dinner.
Day 3: Rabida Island / Bartolome Island
Disembark at Rabida Island (wet landing) on a red-colored beach, due to the unusually high content of iron in the volcanic material. A gratifying stroll along the beach of this small island (1.9 square miles) allows the observation of a large colony of sea lions, marine iguanas, mockingbirds, yellow warblers and several species of Darwin's finches. Very close to the beach, hidden behind a strip of green saltbush, is a salt pond where at times greater flamingos migrate. This is a great place to snorkel from the beach, both for beginners, as well as for experienced snorkelers, due to the unique combination of underwater species and submarine landscapes. During navigation to the next island, dolphins are often spotted. Lunch on board.

Disembark at Bartolome Island (dry landing) for a hike to the summit. This is a steep climb aided by a wooden staircase with handrails; the view from the top is worth the effort. Go on a dinghy ride around colossal Pinnacle Rock, then enjoy the beach (wet landing) and some snorkeling, possibly with Galapagos penguins, or else a ride in the glass-bottom boat for great views of the underwater world. Nightly briefing and dinner.
Day 4: Genovesa Island
The morning starts with a very interesting panga ride along the cliffs before disembarking (dry landing) on rocks for a steep climb (90 feet) up stairs. Once at the top of the stairs, the land is flat, allowing for a stimulating walk of about a mile to the other side of this small island, observing large colonies of masked boobies, frigate birds and storm petrels. Those not wishing to disembark can enjoy a longer panga ride along the cliffs (depending on weather conditions). Lunch on board.

In the afternoon, make a wet landing for an easy stroll observing thousands of birds, mainly frigate birds, red-footed and masked boobies, gulls, herons, finches and mockingbirds. There is an optional walk over sharp lava and uneven terrain for dramatic views, or you can return to the beach to enjoy swimming and snorkeling at this beautiful natural harbor. The more adventurous can snorkel along the cliffs. Nightly briefing and dinner.
Day 5: San Cristobal Island
After breakfast, there is an optional departure to see the breeding programme of giant tortoises at Cerro Colorado. Learn about his endangered species, and its promising recovery. This site is 45 minutes by bus, on the south shore of San Cristobal Island. Return to town and transfer to the airport to take the flight back to the mainland.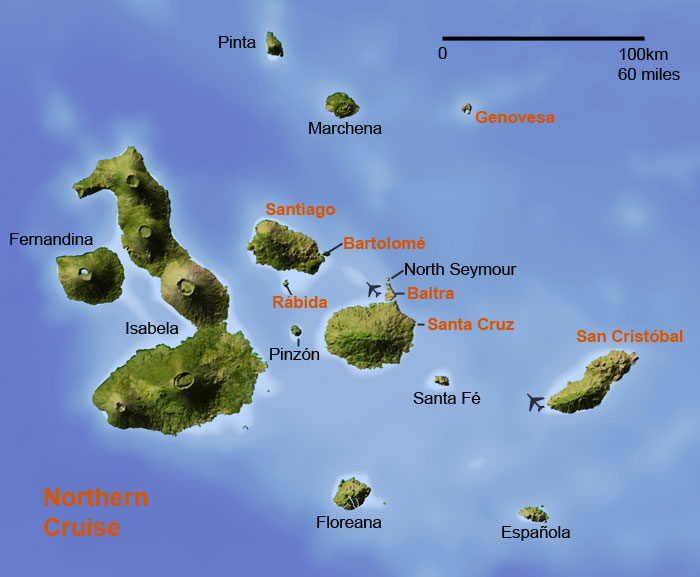 Above rates are per person and based on double occupancy except in Boat Deck Single Standard cabin.
Additional Costs:
International Airfare
Galapagos Airfare (Quito or Guayaquil): Approx. $450-$600 per person
Galapagos National Park Fee: $100 per adult; $50 per child under 12
Galapagos Transit Card: $20 per person
Fuel surcharge may apply
Single Rate: Double cabins may be used for single use at 1.5 times the regular rate.
Triple Rate: Per person rate is the same as the double rate in select Main Deck and Boat Deck Standard cabins.
Child Rate: 25% off for children under 15 years. One child discount per full paying adult fare. Minimum child age is 6. Must share cabin with their parents or guardians. Not offered during peak season.
Peak Season:
During these times, passengers must pay a surcharge of $137 per adult and $105 per child. Child rates are not offered during peak season. No discounts apply. In addition, double cabins for single use are 2 times the regular rate.

We strongly recommend two pre-cruise nights and one post-cruise night in Quito or Guayaquil. Please inquire about adding these or other services to your trip.
Included:
Shared transfer from main hotels in Quito (Casa Gangotena, Hilton Colon, Swissôtel, Marriott, Dann Carlton) and in Guayaquil (Hilton Colon, Oro Verde, Hampton Inn, Sheraton) to airport for flights to/from Galapagos; cabin accommodations aboard ship; all meals aboard ship; all shore activities and excursions; guide and lecture services; sea kayaks; glass-bottom boat outings; snorkeling gear; luggage handling; medical care on board (but not the cost of medication); taxes and transfers on the island. For Darwin Elite cabins only (Boat Deck Standard Plus, Superior, Junior Suite and Master Suite): wine and beer at dinner; use of VIP lounge at departure airport in the Galapagos Islands; explorers' kit, expedition CD; Internet access in select areas; special edition take-home coffee table book; and wetsuit rental. Subject to change without notice.
Not Included:
Hotel nights before/after cruise; transfers in Quito or Guayaquil; Galapagos National Park entrance fee, subject to change without notice; Galapagos Transit Card; international airfare; airfare to/from Galapagos Islands; wet suit rental; Internet; alcoholic and non-alcoholic beverages; gifts and personal items; passport expenses; traveler's insurance; laundry service; gratuities to ship staff and crew are left to the discretion of the passenger; fuel surcharge may apply.
Airfare between Quito/Guayaquil and the Galapagos Islands:
The flights between mainland Ecuador (Quito or Guayaquil) and the Galapagos Islands are an additional cost. To secure your seats on often overbooked flights, ExpeditionTrips must reserve these flights for you at the time of cruise booking. Approximate cost (including service fee): $450-$600 per adult; $250-$325 per child under 12 (copy of passport required).