Ship Name: Eric / Letty (identical ships) - Motor Yachts - 20 passengers
Activities: Hiking, Photography, Snorkeling, Wildlife Viewing

We strongly recommend two pre-cruise nights and one post-cruise night in Quito or Guayaquil. Please inquire about adding these or other services to your trip.
The Galapagos Islands are considered one of the most spectacular and pristine National Parks in the world.

Visitors delight in the abundant, unusual, and surprisingly approachable wildlife--from Galapagos giant tortoises to playful sea lions to the fascinating blue-footed boobies.

Introduction

The marine community of Galapagos is one of the most unique and exotic in the world. You will see penguins swimming with tropical fish and iguanas that feed underwater. The creatures of the sea exhibit the same bold curiosity and lack of fear characteristic of the terrestrial wildlife. Almost one quarter of the marine life in Galapagos is endemic to this archipelago 17% of its fish and 35% of its marine invertebrates are native and found nowhere else in the world. The underwater scene is rich in nutrients and teems with colorful life. Great schools of fish cruise the open water, at times so thick they nearly block out the sun. The reefs are an amazing profusion of invertebrate life. Swept by both cold-water currents from Antarctica and warm currents from the tropical Pacific, the marine life is a bizarre mixture of cold and warm water species.

Itinerary

Day 1: San Cristobal Island / Embark
Upon arrival to Puerto Baquerizo Moreno, San Cristobal, your crew meets you at the airport to escort you to your ship. After the welcome briefing, buffet lunch and safety drill, travel by bus into the interior of San Cristobal to visit La Galapaguera Cerro Colorado, where the National Park has established a breeding program for the tortoises and set up an information center for visitors. Along the trail, find the San Cristobal (Chatham) mockingbird and Calandrinia plant, both endemic to this island. Here, you will see the terrestrial tortoises living in their natural habitat and learn about their origin, evolution and threats by introduced animals.

Day 2: Genovesa Island
Spend the entire day on Tower (Genovesa Island), considered to be one of the most spectacular Islands in Galapagos for bird species. This morning, have a dry landing at Prince Philip's Steps. Red-footed boobies nest here in Palo Santo trees and Nazca boobies nest near the trail. In an open lava field, find storm petrels in large numbers. If you are lucky, you will see the elusive short-eared owl. After the walk, kayaks are available to paddle along the shoreline. Look for the beautiful red-billed tropic bird usually found in the crevices.

This afternoon, have a wet-landing on Darwin Bay, a coral sand beach where swallow-tailed and lava gulls gather near the tide pools. Enter a forest of Optuntia cactus and mangroves where colonies of Great Frigate birds nest. The males inflate their red-throated pouches to attract females as they fly overhead. The trail leads through a rich inter tidal zone where you find a wide diversity of wildlife. After the walk, swim and snorkel from the beach with sea lions in these northern warmer waters.

Day 3: Santa Cruz Island
Visit Las Bachas with its long stretch of soft white sand beach and interior lagoons where flamingo live. Enjoy time to snorkel at the beach. Or perhaps take a zodiac ride through Black Turtle Cove, a series of coves and inlets surrounded by mangroves. Perhaps you may see pairs of mating sea turtles (Sept to Feb), white-tipped reef sharks and golden cow-nosed rays.

Located on the northern tip of Santa Cruz is Cerro Dragon aka Dragon Hill. Along the trail, find Darwin Finches, Galapagos Flycatchers, Yellow Warblers, Audubon Shearwater and the endemic land iguanas, orange-yellow in color with large spines along their backs. Discover pink flamingos feeding in the salt-water lagoon as well as stilts, pintail ducks, sandpipers and more. From the top of the hill, enjoy a majestic view of the bay island covered in Opuntia cactus, Palo Santo and Cordia Lutea (muyuyu). After dinner, sail toward the western islands and cross the Equator for the second time.

Day 4: Fernandina Island / Isabela Island
This morning, have a semi-wet landing at Punta Espinoza, Fernandina, the youngest and most pristine Island in Galapagos. Recent lava flows formed by an active volcano stretch their way around the coast. Hundreds of marine iguanas, the largest colony in Galapagos, bask in the sun along the rugged shoreline. Observe sea lion harems with resident bulls carefully guarding their territory. Flightless cormorants build their nest on the point and Galapagos hawks fly overhead.

After lunch, cross the Bolivar Chanel where whales and dolphins are often spotted riding the bow wave. This afternoon, enjoy a zodiac ride at Elizabeth Bay, Isabela Island, that begins with a visit to a secluded cove, lined with large red mangrove trees. Here, turtles, rays, and shore birds can be seen. Motor to the rocky islets known as "Las Marielas," where a colony of nesting penguins, flightless cormorants and giant marine iguanas are found.

Day 5: Isabela Island
This morning, disembark at Urbina Bay to find four miles of its coastal seabed, with marine life exposed due to a dramatic uplift in 1954 when the volcano erupted. The marine remnants of coral skeletons, some of them waist-high, are visited after a wet landing on the beach. The brown pelicans and flightless cormorants nest here. Giant marine iguanas are seen along the coast.

This afternoon, have a dry landing at Tagus Cove, located on the western Island of Isabela. Six volcanoes flowed together and formed the largest Island in Galapagos. During the walk, discover a salt-water lagoon, a scenic overlook with a spectacular view of the ocean, lava fields and volcanic formations. Graffiti dating back to the 1800's is written on the rocky cliffs. Explore the Coves by Zodiac or kayak to find Galapagos penguins, boobies, pelicans and other seabirds. An excellent snorkeling opportunity is offered here after the walk. After dinner, a sky full of stars beckons to go out on deck and observe the galaxy.

Day 6: Santiago Island / Rabida Island
This morning, have a wet landing at Puerto Egas, Santiago (James). Stroll along the shoreline looking for octopus, starfish and other sea life caught in the tide pools. At low tide, catch a glimpse of marine iguanas as they feed on exposed green algae. Watch for great blue herons, lava herons, American oystercatchers and yellow-crowned night herons. The walk ends at the grottos, deep pools of clear water where you encounter fur sea lions once on the verge of extinction. Before returning to the yacht, there is a snorkeling and kayak opportunity.

Disembark on Rabida Island (Jervis) in the afternoon, located off James Island. Rabida sports the most diversified volcanic rocks of all the islands and is considered the geographic center of Galapagos. The dark red sand beach originated from the erosion of volcanic stones. Follow a trail that leads to a salt water lagoon, and observe greater flamingos as they feed. Brown Pelicans nest in the mangroves at the far side of the lagoon. After the walk, there is time for snorkeling.

Day 7: Santa Cruz
Travel by bus to the highlands of Santa Cruz Island. The scenery gradually changes as you wind your way through all seven vegetation zones found in Galapagos. Visit the tortoise reserve at "Las Primicias" one of the private farms in the highlands where you'll encounter giant tortoises. Stop at "the tunnels", the largest lava tubes found in Galapagos. Look out for the bright red male vermilion flycatcher. Explore the Charles Darwin Research Station, where you can visit tortoises and land iguanas. Scientists from all over the globe work at the station and conduct biological research from anatomy to zoology. Visit the Van Straelen Hall where there are exhibits.

Puerto Ayora is the social heart of the islands with the largest population, around 24,000. This evening you'll have the option to return to the yacht for the Captain's Farewell Cocktail and dinner, or remain in town on your own to take a stroll, or explore the shops and restaurants. Zodiacs will be provided for your return to the yachts.

Day 8: San Cristobal Island
Visit the Interpretation Center opened on San Cristobal Island in 1999. Gain a more complete understanding of the natural and human history of the Islands. Afterwards, spend some time in port before heading to the airport for the flight back to the mainland.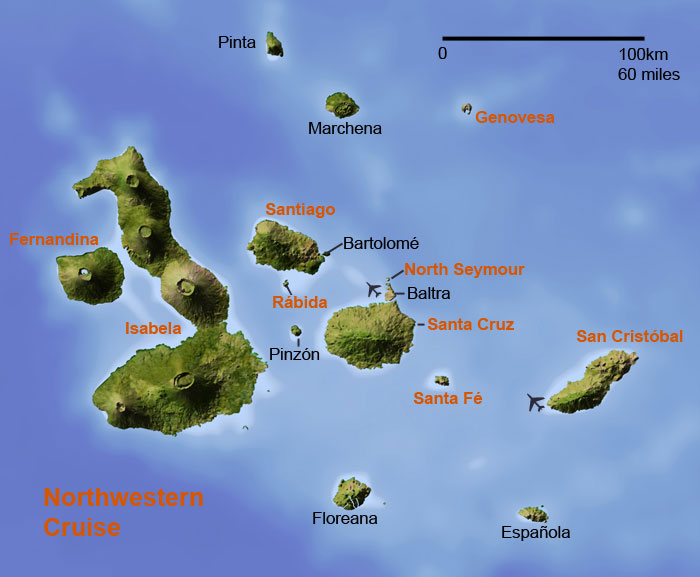 Notes:
This itinerary is subject to change. ExpeditionTrips.com is not responsible for itinerary changes.
Above rates are per person and based on double occupancy.
Additional Costs:
International Airfare
Galapagos Airfare (Quito or Guayaquil): Approx. $450-$600 per person
Galapagos National Park Fee: $100 per adult; $50 per child under 12
Galapagos Transit Card: $20 per person
Fuel surcharge may apply
Wet Suit Rental: $25 to reserve your size in advance. No charge for sizes available at time of departure.
Single Rate:
Single cabins are limited and not available every departure, they are assigned to any deck by the shipping company at the time of sailing. On select departures, female share cabins and male share cabins are available at the iguana deck rate on seasonal departure dates only. On peak departure dates, the single rate will apply and a share request can be placed on wait list. Only if the share is matched will the share rate apply.
Triple Rate:
Child Rate: Children 11 years and under are 25% off the double occupancy rate (only on designated family departures). Children ages 12-17 years are 15% off double occupancy rate. Discount is based on their age at the time of sailing. One child discount per each adult fare paid with a limit of two per family. Photocopy of child's passport showing date of birth is required. No child discounts are permitted during holiday weeks.
We strongly recommend two pre-cruise nights and one post-cruise night in Quito or Guayaquil. Please inquire about adding these or other services to your trip.
Photography Workshop:
Join wildlife photographer Mike Hagen on this trip of a lifetime. His knowledge of the wildlife and landscapes gives you an advantage during the week for when and how to capture the best photos as you hike with your naturalist guides. He'll work with you on skills such as perfectly framing the famous blue-footed booby, and how to set up the camera to get an up-close macro shot of even the tiniest lizard.
Family Cruises:
These departures are offered throughout the year, generally over US school breaks. This operator offers two types of family departures: cruises oriented toward families with teenagers and cruises oriented toward families with younger children. These departures feature age-appropriate activities depending on the ages and number of children or teenagers on board and may include: visits to the bridge and learn about navigational charts and tie nautical knots with the Captain; games with prizes; costume party; board games/books/DVDs; talent shows and ice cream social sundaes. Also, snorkeling equipment, life vests and wet suits are available onboard in child sizes and kid-friendly meals are served. Dates subject to change, contact us for details.
7-Day Cruise Option:
Passengers can disembark on Saturday in Baltra for a shorter, 7-day cruise. Available on select departure dates, the 7-day rate is a 10% discount off the 8-day cruise rate on Seasonal departure dates only and cannot be combined with any other promotional or child discounts. For those passengers departing early and require a transfer to the airport with a guide, there is an additional charge of $50 per person (max $200). The return flight from Baltra is subject to availability and confirmation is requested at the time of booking. Please add $20.50 per person for the Baltra airport surcharge.

Included:
Cabin accommodation; all meals and snacks aboard ship; non-alcoholic beverages; purified water; Captain's welcome and farewell cocktail; house wine and local beer with dinner; guided shore excursions; use of wetsuits (but no guarantee there will be one available in your size unless you reserve in advance for $25), snorkeling equipment and kayaks; transfer between island airport and dock. Subject to change without notice.
Not Included:
Airfare; hotel nights before/after cruise; transfers in Quito or Guayaquil; Galapagos National Park entrance fee; Galapagos Transit Card; gratuities are left to the discretion of the passenger; wetsuit advance reservation; traveler's insurance; alcoholic beverages not mentioned above; purchases on board; fuel surcharge may apply.
We are happy to add hotels, air and land arrangements as requested, and you will be quoted for services.
Airfare between Quito/Guayaquil and the Galapagos Islands:
The flights between mainland Ecuador (Quito or Guayaquil) and the Galapagos Islands are an additional cost. To secure your seats on often overbooked flights, ExpeditionTrips must reserve these flights for you at the time of cruise booking. Approximate cost (including service fee): $450-$600 per adult; $250-$325 per child under 12 (copy of passport required).