Ship Name: Galapagos Sky - Dive boat - 16 passengers
Activities: Hiking, Photography, Scuba Diving, Snorkeling, Wildlife Viewing

We strongly recommend two pre-cruise nights and one post-cruise night in Quito or Guayaquil. Please inquire about adding these or other services to your trip.
Experience one of the best dive destinations in the world! In the Galapagos Islands, you will experience a scuba diving adventure you will never forget with penguins, sea lions, marine iguanas, sea turtles, angelfish, giant manta rays, whale sharks and schools of hammerhead sharks by your side. Enjoy up to four dives a day in the world-renowned northern islands of Wolf and Darwin. (Note: All dives are for intermediate/expert divers only, due to the strong currents)

Introduction

The marine community of Galapagos is one of the most unique and exotic in the world. You will see penguins swimming with tropical fish and iguanas that feed underwater. The creatures of the sea exhibit the same bold curiosity and lack of fear characteristic of the terrestrial wildlife. Almost one quarter of the marine life in Galapagos is endemic to this archipelago 17% of its fish and 35% of its marine invertebrates are native and found nowhere else in the world. The underwater scene is rich in nutrients and teems with colorful life. Great schools of fish cruise the open water, at times so thick they nearly block out the sun. The reefs are an amazing profusion of invertebrate life. Swept by both cold-water currents from Antarctica and warm currents from the tropical Pacific, the marine life is a bizarre mixture of cold and warm water species.

Itinerary

Day 1: San Cristobal Island / Embark
Upon arrival to Puerto Baquerizo Moreno, San Cristobal, the crew of the Sky Dancer meets you at the airport to escort you to your ship. After the initial briefing, there is a mandatory check-out dive at Isla Lobos where you encounter sea lions. At sunset, circumnavigate Kicker Rock (Leon Dormido), a vertical tuff cone formation that abruptly juts up almost 500 feet out of the ocean. Here you see blue-footed boobies, masked boobies and magnificent frigate birds on the cliffs.

Day 2: Bartolome Island / Cousins Rocks
Bartolome is a lovely dive spot at Cousins Rocks boasting a variety of colorful fish and unique photo opportunities. Travel along a beautiful coral wall discovering frog fish, sea horses, and octopus. Enjoy sea lion companions on your safety stops.

Enjoy a hike to a favorite hilltop with breathtaking views. Conditions permitting, snorkel in crystal-blue water with the possibility of penguins as companions.

Days 3-5: Diving Wolf and Darwin
You'll spend the next three days diving (up to three dives per day) the legendary islands of Wolf and Darwin. Most experienced divers will agree - Wolf and Darwin are the best diving sites in the world! Whale Sharks are common here, particularly from mid-May through November. At the Northern Arch at Darwin, you will see Hammerhead sharks either individually, in small groups, or large schools. Bottlenose dolphins are not uncommon. The reef contains many warm water varieties of fish found nowhere else in the islands and is the most consistent place to see Hammerheads. Once you see Wolf and Darwin - you'll immediately understand why there are no shore excursions on this part of the cruise - there is no way up the vertical cliffs!

Day 6: Cape Douglas / Punta Vincente Roca
At Cape Douglas, on the western side of Isabela Island, you will do one dive Friday morning. Here you can expect to see penguins, marine iguanas, flightless cormorants, sea lions, seahorse, sea turtles, horn sharks, red lipped batfish, and occasional hammerhead sharks and white tip sharks. Also keep an eye out for chevron barracuda, snappers, yellow fin tuna, rainbow runners, and wahoo. There are also a lot of smaller fishes like creole fishes, parrot fishes, scrawled filefishes, pacific box fishes, and tiger snake eels.

Visit Punta Vincente Roca for up to 2 dives and a Panga ride. Diving here is chilly, particularly below the thermocline, but not to be missed! Discover a steep, deep vertical wall covered in soft coral, sponges, and endemic black coral. Observe mola mola, sea horses, horn sharks, red-lipped bat fish, various shrimp and many more marine invertebrates. After the dive, photograph penguins, flightless cormorants, marine iguanas, sea lions, blue-footed and masked boobies, magnificent frigates, and noddy terns during the panga ride back to the ship. . 360 scene

Day 7: Pinzon Island / Santa Cruz Island
Pinzon Island provides opportunities for encounters with a variety of species of sharks, sea lions, mantas, eagle rays, and moray eels. Enjoy one dive here observing many fish species including yellow tailed surgeonfish, king angelfish, moorish idols, steel pompanos, snappers, grunts, creole fish, and barracuda.

After the dive, visit the highlands of Santa Cruz Island to observe Galapagos Tortoises. Explore the coastal town of Puerto Ayora before heading back to the yacht.

Day 8: Interpretation Center / San Cristobal Island
This morning, visit the Interpretation Center to learn more about the natural and human history of the Islands. After your visit, transfer to the airport for your return flight to Quito.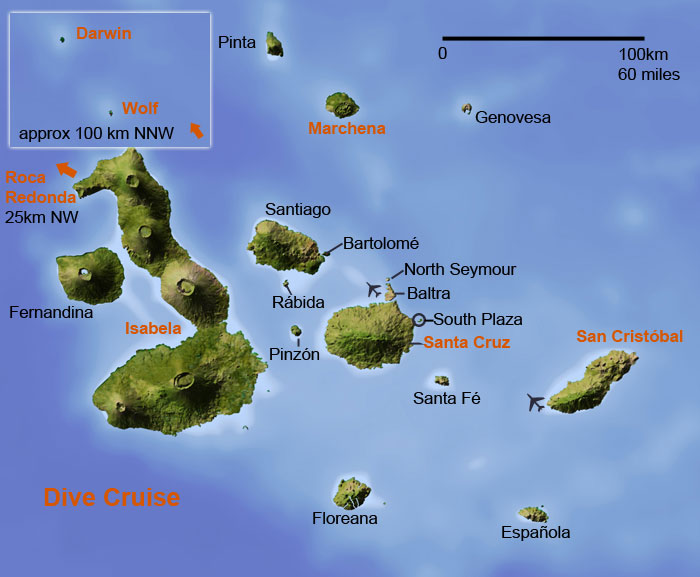 Notes:
This itinerary is subject to change. ExpeditionTrips.com is not responsible for itinerary changes.
Above rates are per person and based on double occupancy and subject to change without notice.
Additional Costs:
International Air
Galapagos Airfare (Quito or Guayaquil): Approx. $450-$600 per person
Galapagos National Park Fee: $100 per adult; $50 per child under 12
Galapagos Transit Card: $20 per person
Rental Dive Equipment: Please enquire with ExpeditionTrips for prices. Sizes and quantities are limited so please reserve in advance.
Fuel surcharge may apply
Single Rate: 1.65 times the regular rate. On select departures, solo travelers (same gender) can be matched up to share a double cabin and will be charged the double occupancy rate.
We strongly recommend two pre-cruise nights and one post-cruise night in Quito or Guayaquil. Please inquire about adding these or other services to your trip.
This itinerary is subject to change. ExpeditionTrips.com is not responsible for itinerary changes. Diving in Galapagos IS considered ADVANCED diving as it occurs in the presence of strong currents, cold water and at times limited visibility. Diving from tenders/pangas (small inflatable boats) is also the rule and not an exception in this World Renowned destination. Recommended requirements include 50-100 open water dives, experience in currents, ability in removing gear in water and ability in getting into small boats in choppy seas.
Dry Dock Dates: Jan 8 - Feb 19, 2017
Rental Dive Equipment: BCD; regulator and gauge; computer; underwater camera; wetsuit, hoood, mask and snorkel, and fins/booties. Please contact ExpeditonTrips for details. Limited sizes and quantities available. Please make sure to reserve in advance.
Included:
Cabin accommodations; meals aboard yacht including beer and wine with dinner; non-alcoholic beverages including filtered drinking water; service of naturalist guides/dive masters; transfers and baggage handling in the islands between airport and ship; diving equipment: filled tanks, weights, weight belt; free nitrox fills; up to 4 dives per day over 5.5 days; 3 land excursions. Subject to change without notice.
Not Included:
Airfare; hotel nights before/after cruise; transfers in Quito or Guayaquil; Galapagos National Park entrance fee; Galapagos Transit Card; gratuities to guides and crew; purchases in onboard boutique; travelerís insurance*; hyperbaric chamber fee; dive gear and equipment rentals; fuel surcharge may apply.
We are happy to add hotels, air and land arrangements as requested, and you will be quoted for services.
Airfare between Quito/Guayaquil and the Galapagos Islands:
The flights between mainland Ecuador (Quito or Guayaquil) and the Galapagos Islands are an additional cost. To secure your seats on often overbooked flights, ExpeditionTrips must reserve these flights for you at the time of cruise booking. Approximate cost (including service fee): $450-$600 per adult.
*Cruise Interruption and Cancellation Insurance:
We strongly recommend that all passengers traveling on Galapagos Sky invest in comprehensive medical, accident, trip cancellation and trip interruption insurance at the time of your reservation. This investment will protect you and your financial commitment in the event of unforeseen travel delays, airline cancellations, weather, personal or family illness or injury which may not allow for you to make your scheduled cruise. We also strongly recommend diving accident insurance such as coverage provided by Divers Alert Network.