Ship Name: Eric / Flamingo / Letty (identical ships) - Motor Yachts - 20 passengers
Activities: Hiking, Photography, Snorkeling, Wildlife Viewing

We strongly recommend two pre-cruise nights and one post-cruise night in Quito or Guayaquil. Please inquire about adding these or other services to your trip.
The Galapagos Islands are considered one of the most spectacular and pristine National Parks in the world.

Visitors delight in the abundant, unusual, and surprisingly approachable wildlife--from Galapagos giant tortoises to playful sea lions to the fascinating blue-footed boobies.

Itinerary

Day 1: San Cristobal Island
Upon arrival to Puerto Baquerizo Moreno, San Cristobal Island, your crew is waiting at the airport to escort you to your anchored yacht. After the welcome briefing, buffet lunch and safety drill, set sail for Playa Ochoa. Here, test your snorkeling equipment and at the same time swim with a small colony of sea lions. Behind the beach, there is a tidal lagoon where birds can be spotted, including the rare chatham mockingbird. At sunset, cruise around Kicker Rock (Leon Dormido), a vertical tuff cone formation that abruptly juts up almost 500 feet out of the ocean. On the cliffs, spot blue-footed boobies, nazca boobies and magnificent frigate birds.

Day 2: San Cristobal Island
This morning, visit the northeast tip of San Cristobal, Punta Pitt, a tuff formation that serves as a nesting site for many sea birds including blue-footed, nazca and red-footed boobies, frigate birds, swallow-tailed gulls and storm petrels. Punta Pitt is considered to be a first-class site for birds and equal to Genovesa (Tower) Island. This afternoon, visit Cerro Brujo, a breathtaking white power-sand beach, said to be one of the most spectacular in Galapagos. Here, enjoy an opportunity to snorkel or kayak right from the beach.

Day 3: Espanola Island
This morning, have a dry landing at Punta Suarez, Espanola, to witness the highest rate of endemic species in Galapagos. Sea lions noisily greet as you land on their beach. From April to November, the waved albatross, found only on Espanola, perform their wild mating ritual. Colonies of blue-footed boobies engage in "sky-pointing" to show off for potential mates. Nazca boobies busily care for their young. Stunning swallow-tailed gulls are the only nocturnal gulls in the world. Red-billed tropicbirds take shelter under the cliffs. Also, find Darwin's Finches, Galapagos Doves and Galapagos Hawks. Observe a unique species of marine iguana identified with traces of red and green colorings. Colorful sally light-foot crabs crawl along the shoreline near to the famous "blow hole."

In the afternoon, have a wet landing on Gardner Bay, Espanola (Hood). Walk along seemingly endless stretches of this white sandy beach where you'll find large colonies of sea lions. There is no trail to follow so this is a chance to explore and you may find a Galapagos Hawk, Darwin's Finches or Hood Mockingbird. Swim with sea lions right from the beach, explore by kayak or just relax. There's an excellent snorkeling site off Gardner Islet with a colorful diversity of sea life near Tortuga Rock, explore caves covered with invertebrates.

Day 4: Floreana Island
Step ashore at Punta Cormorant, Floreana Island (Charles), one of the few populated islands in the Galapagos. Floreana presents a rich history with mystery and intrigue. Set foot on a beach alive with the sounds of sea lions. Follow a trail to a brackish lagoon, home of the pintail ducks, common stilts, and the pinkest Flamingos in the world. Wind your way past a rich variety of plants including Morning Glory, Cut Leaf Daisies, Palo Verdes and Scalesia leading to a beach with power soft sand. Sea turtles lay their eggs in the sand dunes and rays swim in the shallow water.

After the walk, have an opportunity to snorkel at Devil's Crown, a shallow sunken crater colonized by a brilliant array of colorful fish and corral. This afternoon, visit Post office Bay, not the most scenic, but probably the most famous sites in Galapagos. Here is where a post barrel was put into use in the late 18th Century by English whaling vessels. You are invited to leave a post card and to pick up any mail from your home area.

Day 5: Isabela Island
Visit Sierra Negra Volcano, located in the Southwest portion of Isabela, and considered the oldest and largest volcano on Isabela. From the town of Puerto Villamil, travel 45 minutes by motorized vehicle followed by some hiking. Along the way, you will usually spot the Vermillion Flycatcher, Galapagos Martins, Whimbrels and Galapagos Hawk. Visit a hidden gem on Isabela Island called Los Humedales, which translates to "wetlands," or visit Las Tintoreras, a lagoon for snorkeling and where eagle rays and sea turtles can be spotted. At Humedales, there are trails from which you find all four species of mangroves, secluded sandy beaches with rocky shores and natural pools from where you can view migratory birds including Whimbrels and mating Flamingos. Stop at the tortoise breeding center located in the town of Puerto Villamil where you will encounter giant tortoises, the namesake of the islands.

Day 6: Bartolome Island / Santa Cruz Island
Disembark at Bartolome, where it seems like you are walking on the moon. This young Island is inhospitable to most plants and animals. After a dry landing, climb 30 minutes up stairs leading to the summit of a once active volcano. Along the way, pause to marvel at lava bombs, spatter cones and cinder cones. From the top of the wooden stairs, gaze out across the island for a panoramic view of the island and "Pinnacle Rock," an eroded tuff cone. Crystal clear water is an invitation to snorkel from the beach or Zodiac with schools of tropical fish and Galapagos Penguins.

Later, travel by bus to the highlands of Santa Cruz Island. The scenery gradually changes as you wind the way through all seven vegetation zones found in Galapagos. Here, visit the tortoise reserve at "Las Primicias," one of the private farms in the highlands where you will encounter giant tortoises in their natural habitat. Visit Los Gemelos, Spanish for "The Twins," a pair of large pit craters where you find the bright red male vermilion flycatcher.

Day 7: South Plaza Island / Santa Cruz Island
Explore South Plaza, a small geological uplift with tall cliffs offering spectacular views. After a dry landing, the trails leads through prickly pear cactus or opuntia and sesuvium. Here you can find the Galapagos land iguana feeding on the cactus leaves. Toward the end of the hill, encounter a colony of bachelor sea lions. The dominant bulls are in various stages of recovery from battles lost over prime beach territory. Also, find swallow-tailed gulls, shearwaters and red-billed tropicbirds who build their nests along the cliffs.

Later, visit the Centro de Crianza Fausto Llerena (formerly the Charles Darwin Research Station). See all three tortoise corals and the breeding center with new hatchlings and miniature tortoises not yet ready to be repatriated. Scientists from all over the globe work at the station and conduct biological research from anatomy to zoology. Stop at Van Straelen Hall where there are exhibits and a short video presentation. Visitors can see the tortoise and land iguana corrals. Afterward, walk through the town of Puerto Ayora, population 24,000, and the social heart of the islands.

Day 8: San Cristobal Island
Visit the Interpretation Center that opened on San Cristobal Island in 1999. Gain a more complete understanding of the natural and human history of the Islands. Afterwards, spend time in port before heading to the airport for the flight back to the mainland.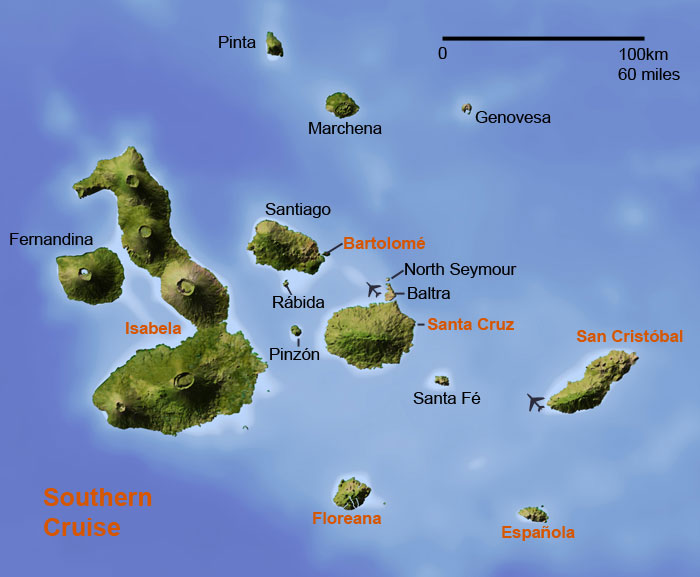 Notes:
This itinerary is subject to change. ExpeditionTrips.com is not responsible for itinerary changes.
Above rates are per person and based on double occupancy.
Additional Costs:
International Airfare
Galapagos Airfare (Quito or Guayaquil): Approx. $450-$600 per person
Galapagos National Park Fee: $100 per adult; $50 per child under 12
Galapagos Transit Card: $20 per person
Fuel surcharge may apply
Wet Suit Rental: $25 to reserve your size in advance. No charge for sizes available at time of departure.
Single Rate:
Single cabins are limited and not available every departure, they are assigned to any deck by the shipping company at the time of sailing. On select departures, female share cabins and male share cabins are available at the iguana deck rate on seasonal departure dates only. On peak departure dates, the single rate will apply and a share request can be placed on wait list. Only if the share is matched will the share rate apply.
Child Rate: Children 11 years and under are 25% off the double occupancy rate (only on designated family departures). Children ages 12-17 years are 15% off double occupancy rate. Discount is based on their age at the time of sailing. One child discount per each adult fare paid with a limit of two per family. Photocopy of child's passport showing date of birth is required. No child discounts are permitted during holiday weeks.
We strongly recommend two pre-cruise nights and one post-cruise night in Quito or Guayaquil. Please inquire about adding these or other services to your trip.
7-Day Cruise Option:
Passengers can disembark on Saturday in Baltra for a shorter, 7-day cruise. Available on select departure dates, the 7-day rate is a 10% discount off the 8-day cruise rate on Seasonal departure dates only and cannot be combined with any other promotional or child discounts. For those passengers departing early and require a transfer to the airport with a guide, there is an additional charge of $50 per person (max $200). The return flight from Baltra is subject to availability and confirmation is requested at the time of booking. Please add $20.50 per person for the Baltra airport surcharge.
Included:
Cabin accommodation; all meals and snacks aboard ship; non-alcoholic beverages; purified water; Captainís welcome and farewell cocktail; house wine and local beer with dinner; guided shore excursions; use of wetsuits (but no guarantee there will be one available in your size unless you reserve in advance for $25), snorkeling equipment and kayaks; transfer between island airport and dock. Subject to change without notice.
Not Included:
Airfare; hotel nights before/after cruise; transfers in Quito or Guayaquil; Galapagos National Park entrance fee; Galapagos Transit Card; gratuities are left to the discretion of the passenger; wetsuit advance reservation; travelerís insurance; alcoholic beverages not mentioned above; purchases on board; fuel surcharge may apply.
We are happy to add hotels, air and land arrangements as requested, and you will be quoted for services.
Airfare between Quito/Guayaquil and the Galapagos Islands:
The flights between mainland Ecuador (Quito or Guayaquil) and the Galapagos Islands are an additional cost. To secure your seats on often overbooked flights, ExpeditionTrips must reserve these flights for you at the time of cruise booking. Approximate cost (including service fee): $450-$600 per adult; $250-$325 per child under 12 (copy of passport required).